Aspen doesn't want to remember the car accident that killed Katelyn Ryan, a sleek-haired popular soccer player. But forgetting is hard -- because Katelyn may have died -- but she didn't leave. Her ghost is following Aspen around, and heading into senior year, it's kind of a problem. Especially when Katelyn's former boyfriend Ben appears to be the only person at school with a clue as to how Aspen feels.

Popularity, Homecoming Court, hot guys - none of these things ever mattered to Aspen. She's been busy trying to keep her stoner mother Ninny in line and out of unemployment. But with Ben sitting next to her in Physics and her therapist begging her to remember all the things she wants to forget, Aspen is thrust into a vivid, challenging world she can't control ... and doesn't want to.

A darkly funny, emotionally gripping story of opening up, letting go, and moving on, Aspen is about the best-worst accident of your life... and what comes next.




"
Aspen
is funny, raw, and uniquely romantic. With an eclectic cast of characters, it's an uncompromising look at tragedy and trauma, perception and reality, and how the worst accident of your life might just be the next best thing to happen to you."
--
Jessica Park, Best Selling Author of Left Drowning and Flat-Out Love
"A funny, thrilling story that made me smile, laugh and thank my lucky stars I wasn't that popular in high school!"
--
"This was my first time reading Rebekah Crane's work, but if there's one thing I've learned is that she knows how to write an engrossing and believable story!
Aspen
was a beautiful read."
--
"Amazing, realistic and all around brilliant, Aspen will stay with you, haunt you and make you smile the widest of smiles!"
--
Aditi Nichani
"The most popular girl in school wants to be friends with Aspen...too bad she's been dead for a month. 'Aspen' is a wonderful story about dealing with guilt, parents, forbidden romance, and what it means to do the right thing."
--
Brian Katcher, author of Almost Perfect and Everyone Dies In The End
"It is not often that books can does this effectively, but this contemporary-romance does this to the point where it brought tears to my eyes. I didn't even cry at
The Fault in Our Stars
, but this! I couldn't stop bawling."
--
"The best part about this book were the characters, hands down. I just about became a laughing mess every time they came up with something ridiculously funny."
--
"All of the characters are quirky, believable, and utterly realistic. For such a complicated topic, this read is a breath of fresh air."
--
"I See Dead Popular People."
--
"I loved the bits of humor as well as the serious moments. This book is a treat."
--
"This is a thrilling book that keeps you hooked from page one. It'll make you laugh and cry but you'll love it."
--
"If there was a support group for traumatised fictional characters I would send Aspen there in an instant. I'd wrap her in a warm blanket and give her hot chocolate and then hug her until she felt better."
--
"I can't tell you how much I enjoyed this book and I wish you would give Aspen a chance."
--
"I found myself falling in love with every character -- even Ninny, Aspen's hippie, pot-smoking mother."
--
"Aspen is a great read with complex and real characters."
--
"I read Aspen in one sitting of a few hours."
--
"Truly a fascinating read."
--
"Aspen is a beautifully written and unique book with key concepts of self discovery."
--
"I've grown to care for everyone in this book, and that's the best part of Aspen; it succeeds in drawing you in with the characters and their lives. Aspen is truly a brilliant narrator, even though she's going through lots of heavy stuff and the guilt is almost eating her alive, she doesn't cease to smile and have fun."
--
"Aspen is deep. Poignant. And absolutely unforgettable."
--
"If you are looking for a hilarious escape, with a psychological, mysterious twist. Aspen is the kind of book to cuddle up to in a cold day or maybe any day! It's that good!"
--
"This book is heartfelt. A story of letting go, acceptance and the fact that life goes on whether you want it to or not."
--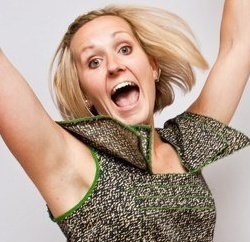 fell in love with YA literature while studying Secondary English Education at Ohio University, but it wasn't until ten years and two daughters later that she started to write it. Inspired by her past students, growing up in Cleveland, Ohio with its fabulous musical theater community, and music of all kinds (particularly the Avett Brothers), she created
Playing Nice
. It is her first published novel, but having a heavy imagination, it's not the only fantasy world she's lived in (just ask her husband). She now lives in Colorado, where the altitude only enhances the experience.