Everyone wants their fifteen minutes of fame--bonus points if there's candy involved. In this laugh-out-loud funny middle grade novel, five kids compete for their shot at the spotlight on a reality TV baking show called The Cronut Kid. They've got to contend with haughty haute cuisine experts from fancy New York restaurants, big shot chefs who'd never let a 10-year-old in their pastry kitchen, and with one another, a group of highly skilled, highly competitive middle and elementary schoolers who can whip up a tray of macaroons faster than you can blink.
The prize? A pop-up bakery in Times Square. Forget sugar, spice, and everything nice. These kids want to win, and they'll do whatever it takes to get there.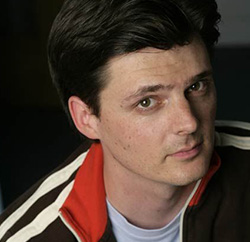 Jason Odell Williams is an Emmy Award-nominated writer and producer as well as an award-winning playwright, novelist and screenwriter. Recently, his play Handle With Care (published by Dramatists Play Service and optioned for a film) ran for over 100 performances Off-Broadway and has been produced 15 times in the last four years in the U.S. and Canada. The play was a New York Times Critics' Pick where they raved, "Mr. Williams has achieved something special: He has written a hilarious and heartwarming romantic comedy... which exudes gobs of comic energy and insight." His first novel, Personal Statement, was optioned for a three-picture deal, and Jason adapted it for the screen with his wife and collaborator Charlotte Cohn. They live in Manhattan with their daughter Imogen and their rescued dog, Pepper. For more please visit .