| | |
| --- | --- |
| | Spunky young Alaskan Carly Keene has never met a book she didn't like. But she's never been in a book before. A chance nap in a magical bookstore sends Carly spiraling back in time. When she wakes up, it's 1846, and a young woman named Charlotte Brontë is trying to compose one of the greatest books ever written... Jane Eyre. With literary history on the line, Carly Keene will battle foggy moors, ghostly apparitions, cholera epidemics, and the horror that is nineteenth-century homework: needlework. It's as much as a spunky 21st-century girl can handle, but if anyone can brave the Brontës, it's Carly Keene |


"Mix two parts adventure with one part literary history, add one spunky Alaskan girl, and you've got a fresh new series that puts the reader on the scene with Carly Keene Literary Detective. In this first book of a series, Katherine Rue creates a rollicking adventure that takes readers from an island in southeast Alaska to the moors of England where the Bronte sisters are about to be inspired, Carly style. Not to be missed."
--
Debby Dahl Edwardson, author of 2011 National Book Award Finalist My Name is Not Easy
"Spunky twelve year-old Carly Keene is transported to the home of the 19th century home of Bronte sisters. Our young heroine is a role model of bravery as she battles ghosts and foggy moors. Carly is curious, adventurous and resourceful, she is a great companion for any young aspiring detective. Young readers will be captivated by a gripping mystery that paints a vivid picture of 19th century England. We look forward to sharing this brilliant book with our community. Girls and boys will enjoy reading the adventures of this brave girl."
--
Ines Almeida, CEO, Toward The Stars and Co-Executive Director, Brave Girls Alliance
"With clever literary devices and intelligent storytelling that takes the young reader seriously, Katherine Rue weaves a page-turning mystery that sends Carly Keene "into a book" while reading Jane Eyre, transporting her from 21st century Alaska to 19th century England. Carly is an adventurous, outspoken and gutsy heroine, sure to inspire you as she does the Bronte sisters. The moors have never been so inviting! A captivating debut YA novel, and a great pick for mother-daughter book clubs."
--
Lori Day, author of Her Next Chapter
"Loved this story. What a fantastic book! This story provides a great mixture of history and mystery. It's also a great way to introduce the Bronte family to literary minds. I love the idea of a young girl as a detective! Worthwhile read for young girls."
--
"I loved the plot. Younger audiences will find this book has plenty of action. After all, there are ghosts, time travel, mystery, and let's not forget adventure -- Carly almost died."
--
"I am so excited to share this story with my granddaughters... what fun we will have together."
--
"A very sweet and endearing read."
--
"Parents need to know that Katherine Rue's Carly Keene Literary Detective: Braving the Brontes is a time-travel adventure for book lovers."
--
"I love opening lines of a book. They can make or break it for me. This one is AWESOME."
--
"Braving the Brontes is excellently written, and is a great step into the literary world. There is much to be said for a strong protagonist who doubts herself, but finds the courage to fight her way through unexpected situations."
--
"It is marvelous historical fiction and there was not a moment I felt embarrassed to be reading it--to the contrary! This book is "good" YA lit, and a page-turner for anyone who loves Jane Eyre or just a darn good mystery."
--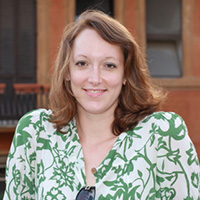 Born and raised in Alaska, Katherine will happily tell you what to do in a variety of survival situations, including but not limited to: bear attacks, hypothermia, nettle stings, and how to start a fire in the rain. She received a B.A. in Classics from Dartmouth College and a Masters in Medieval History from The University of California, Berkeley. She lives in North Carolina with her husband and sons. When she is not gardening or avoiding snakes, she is busy working on the next Carly Keene book.