If Kat McGee had one Christmas wish, she'd wish to be special. Instead, she's the boring middle in a family packed with sparkly siblings, including three sisters who have all starred as Mary in Totsville, Maine's annual big-deal Christmas Pageant. All Kat's done is wet her pants on a rollercoaster and earn herself the horrible nickname, "Kat McPee." When she doesn't get the part of Mary, Kat's convinced that Christmas will be just another Kat McPee failure.

But then Kat's beloved Gram lets it slip that she went to school with Mrs. Claus. The Mrs. Claus. Before Kat knows it, a magical snowglobe whisks her away to the North Pole, where she makes friends, checks naughty and nice lists, and takes classes in cookie baking, reindeer training, and toy designing. It's a Christmas miracle...

But something is wrong. The North Pole is being threatened, and only Kat McGee can help. is about a modern girl in a magical adventure. Kat is about to learn who you can be if you believe in Christmas... and yourself.




"Kat, the protagonist is so easy for kids to relate to, with her insecurities and likable nature. The story gives readers someone special to identify with, and although the adventure Kat has is farfetched (in a most wonderful way), those young readers discover there is greatness inside of them too, just like Kat McGee."
--
Read more press for
Kat McGee and the School of Christmas Spirit
here
!


Kat McGee is delighted to have partnered with Mah-Ze-Dahr Bakery, a delicious concept by chefs Umber Ahmad and Tom Colicchio. You can find their secret recipe for Candyfruit in the back of
Kat McGee and the School of Christmas Spirit
. For more information on Mah-Ze-Dahr, please click !



For beautiful and easy craft projects like these "Festive Holiday Lights", click here!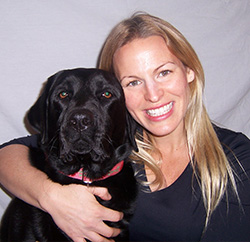 Rebecca Munsterer
is the author and creator of , an online website devoted to both serial fiction and musings about writing. An avid non-fiction writer as well, Rebecca has published articles in SKI, ISLANDS, READER'S DIGEST and various other periodicals. During the day, Munsterer works as the Senior Associate Director of Admissions at Dartmouth College where she reads over 2000 college essays annually. Munsterer lives in Norwich, Vermont where she finds inspiration for characters among the townsfolk.