Luisa Jones is your typical 15-year-old--minus her exceptional computer skills. Her passion for coding, however, doesn't rule her life--she's still obsessed with her brother Ben's best friend, Kamal, though his obsession is with another girl. Lu's mom is distant, consumed by her work, and freshly separated from her father, while her brother is about to leave for college. When a deadly virus creates a global panic, Lu is soon left with the key to solving the mystery behind the disease, and seemingly no one to rely on but herself.

Through one girl's journey, Light Years illuminates a path we all must walk as we confront our mortality and learn to say goodbye to those we love. Emily Ziff Griffin's devastating first novel engages death as an inextricable part of life. Lu's story is about recognizing that there are things we cannot control, and that through suffering comes strength, resilience, beauty, and connection. It's about a very near future in which a powerful sect plays God with people's lives in an attempt to revolutionize the world, identifying the select few who will be crucial to their new world order. Meet Luisa Jones--she may be the key to their success, or their biggest threat.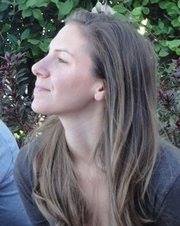 Emily Ziff Griffin is a writer and producer living in Brooklyn, NY with her husband and daughter. In 2003, she co-founded Cooper's Town Productions with Philip Seymour Hoffman, and associate produced the Academy Award-winning film, Capote, at the age of 26. Most recently, she produced the upcoming feature film God's Pocket, starring Hoffman, John Turturro, and Mad Men's Christina Hendricks; she also produced Hoffman's directorial debut, Jack Goes Boating, which premiered at the Sundance Film Festival in 2010. Emily has run three marathons, slowly, and holds a degree from Brown University in art-semiotics, the study of how images make meaning--a subject as obscure as it is relevant to our uber-digital, image- centric culture. In film and on the page, Emily enjoys making great ideas come to life and has encountered no greater inspiration or teacher than her sweet baby girl.
Light Years
is her first novel.